Welcome to the Trains, Toys & Hobbies Website
Your ultimate resource for everything trains and hobbies.
The former Hobby Department Manager of Mitchell's Hobby Store in Wilmington, DE, decided to take over where he left off when Mitchell's closed their doors. Doug has opened his own store and is happy to continue offering the best products and services even the most demanding of train and hobby enthusiasts can appreciate.
We Have Moved!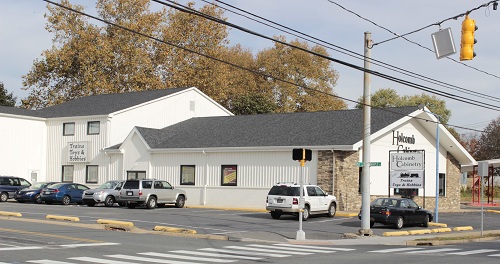 We offer a wide selection of: Paints & Glues, Scratch Building Supplies, Hobby Tools, Plastic Model Kits, Model Scenery Supplies, School Project Supplies, Die Cast Cars and Aircraft Models, Toy Figure and Vehicle Sets, Model Rocketry, Slot Cars, Pinewood Derby, Science Kits and Magazines
We Specialize in Model Railroading: HO Specialists, Lionel and LGB, Handmade Brass Model Trains and Railroad Books

2505 B Philadelphia Pike, Claymont, DE 19703
(2 blocks south of Harvey Road, Wawa)
Call 302-478-7733 or email info@trainstoysandhobbies.com
Hours:
Monday 12-6
Tuesday thru Saturday 10-6
Sunday 12-4 (Fall & Winter Only)
Closed Holidays: New Years Day, Easter, Memorial Day, July 4th, Labor Day Thanksgiving Day and Christmas Day
Special Christmas Hours - (December) - Call us for more information
Brands in stock at any given time:
Brass Models: Akane, ALCO Models, Alpha Models, Balboa Scale Models, Car Works, Custom Brass, Empire Midland, Flying Zoo, Gem Models, GHB Models, Hallmark Models, High Country Brass, Howell Day, International Model Products, Kemtron, Ken Kidder, Key Imports, Lambert, LMB (L.M.Blum), M.B. Austin, Model Engineering Works, Max Gray, Model Traction Supply, New England Rail Service, Nickel Plate Products, NJ International, NWSL, Northwest Short Line, OMI, Overland Models, Oriental Limited, PFM, Pacific Fast Mail, PSC, Precision Scale Models, Rail Classics, Railworks, Red Ball, Signal House, Soho, Sunset Models, E. Suydam & Company, The Car Works, Trains Inc, Vans Hobbies, Westside Model Company,
Narrow Gauge: Bemo Modeleisenbahn, Blackstone, D&R Modellbahn, Liliput, Micro Trains, Peco, Roco
European (Standard Gauge): ACME, Fleischmann, Hag, Hamo (Marklin), HobbyTren, Hornby, Ibertren, Jouef, Liliput, Lima, Rivarossi, Roco, Trix